Relaxing outside The Spaniard, Kinsale.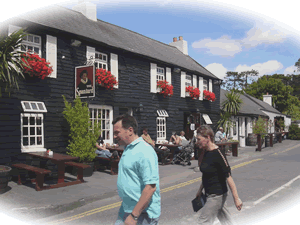 The Spaniard's roadside position has never been an issues. Gridlock and traffic chaos mean nothing as you enjoy your pint or selection from our bar menu. The sedentary pace of life in Scilly soothes as you soak up the sun. At evening-time the outdoor heaters silently warms as the traditional Irish music wafts outward from the Bars.
Scilly Park, just below the Spaniard is a tiny piece of tranquility where lovers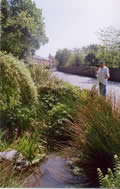 are sometime seen whispering or business partners close deals before returning to the bustle of the Bar. It was lovingly tended to by the late John (JC) Collins of Scilly, Kinsale.
A recovered swamp, the Park with it's exotic plants and fishpond is a testament to the quiet dedication of John (JC) Collins - one of Scilly's stalwarts and a welcome member of the Spaniard's community. Nearby too are the beautiful walks of the Lower Road and the spectacular views of the Upper Road. The Spaniard is a must for walkers and treckers as a finish line after a rewarding tour.
We've a seat waiting for you...